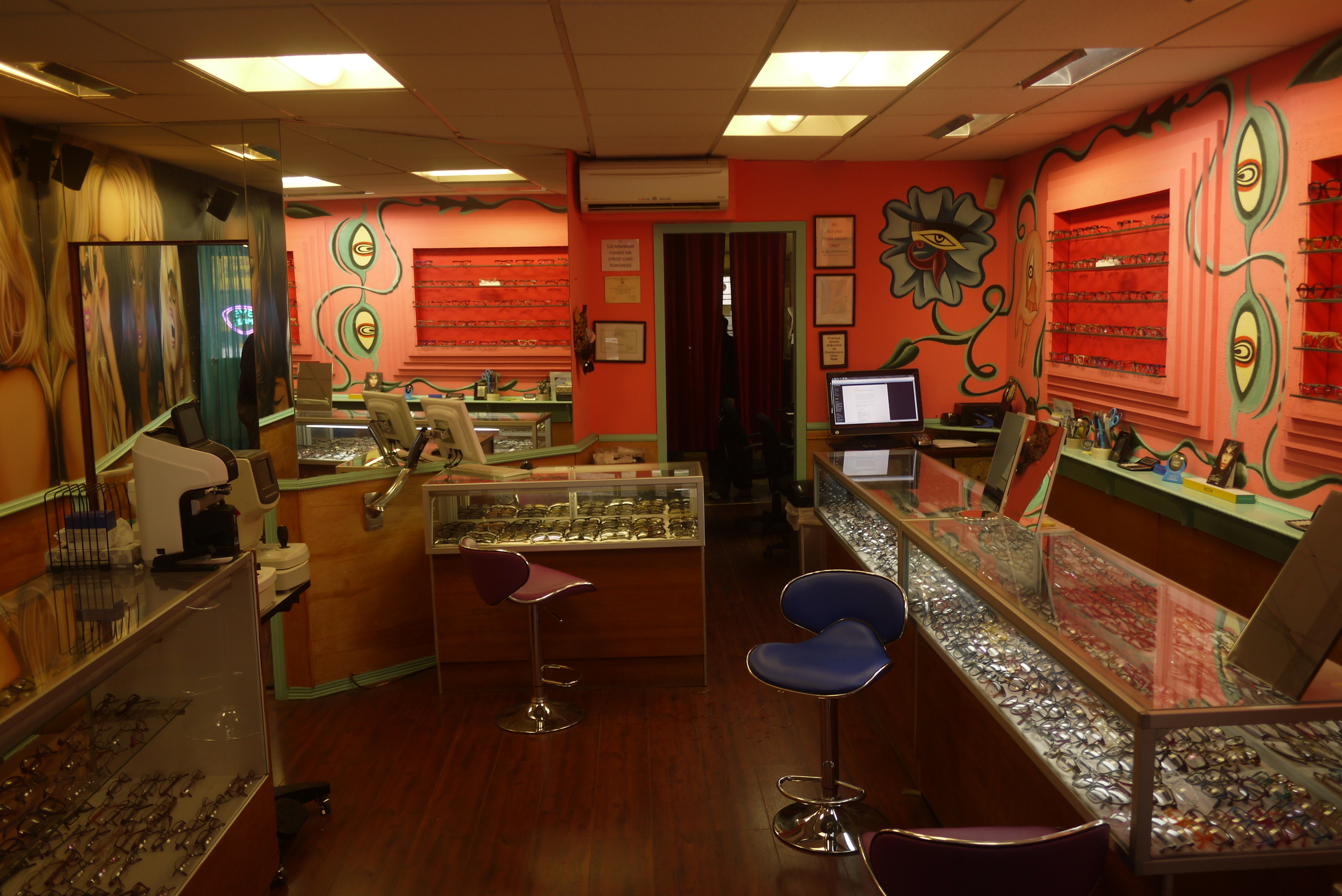 EST 1995
East Village
169 1st Avenue
Between 10th & 11th Sts.
New York, NY 10003
Phone: (212) 460-9240
Fax: (212) 253-0764
–
 
PHILOSOPHY
–
Manhattan Eyeworks is New York's favorite destination for the latest in cutting edge eye wear and contact lenses. Our professional staff offers a unique and personalized touch that only a neighborhood store can. We're located in the heart of New York's East Village.
We carry many top designers as well as new independent eye wear lines. We take pride in offering our clients the highest quality while preserving exclusivity and originality with our hand picked frame selections. Our stylists will help you select the perfect eye wear for all your professional needs; we pride ourselves on always being honest with our customers!
The key to getting the most out of life is great vision. Our optometrist Dr. Elaine Chu and opticians Frank and Oleg at Manhattan Eyeworks have more than 30 years experience in optical care. They're knowledgeable, caring, and will answer all your questions about contacts, lasix surgery and lens options for your glasses. We also specialize in hard to fit contact lenses and emerging presbyopes.(need for reading glasses), we continue to use state of the art technology; with a full service lab, we make and inspect every pair of glasses we dispense to ensure quality and customer approval. We are committed to service, quality, and customer care.
We want you to experience all the world has to offer. Remember, your vision is only as good as the doctors and opticians who take part in making your glasses!

Manhattan Eyeworks has been a neighborhood optical since 1995. We offer the latest in fashionable designer eyewear, lenses, and contact lenses while preserving exclusivity and originality with our selected brands. Our frame stylists are not only professional, we pride ourselves on our one-on-one personalized customer service and our ability to assess all of your professional and practical optical needs. Only our optical in the heart of the East Village can offer such honest quality.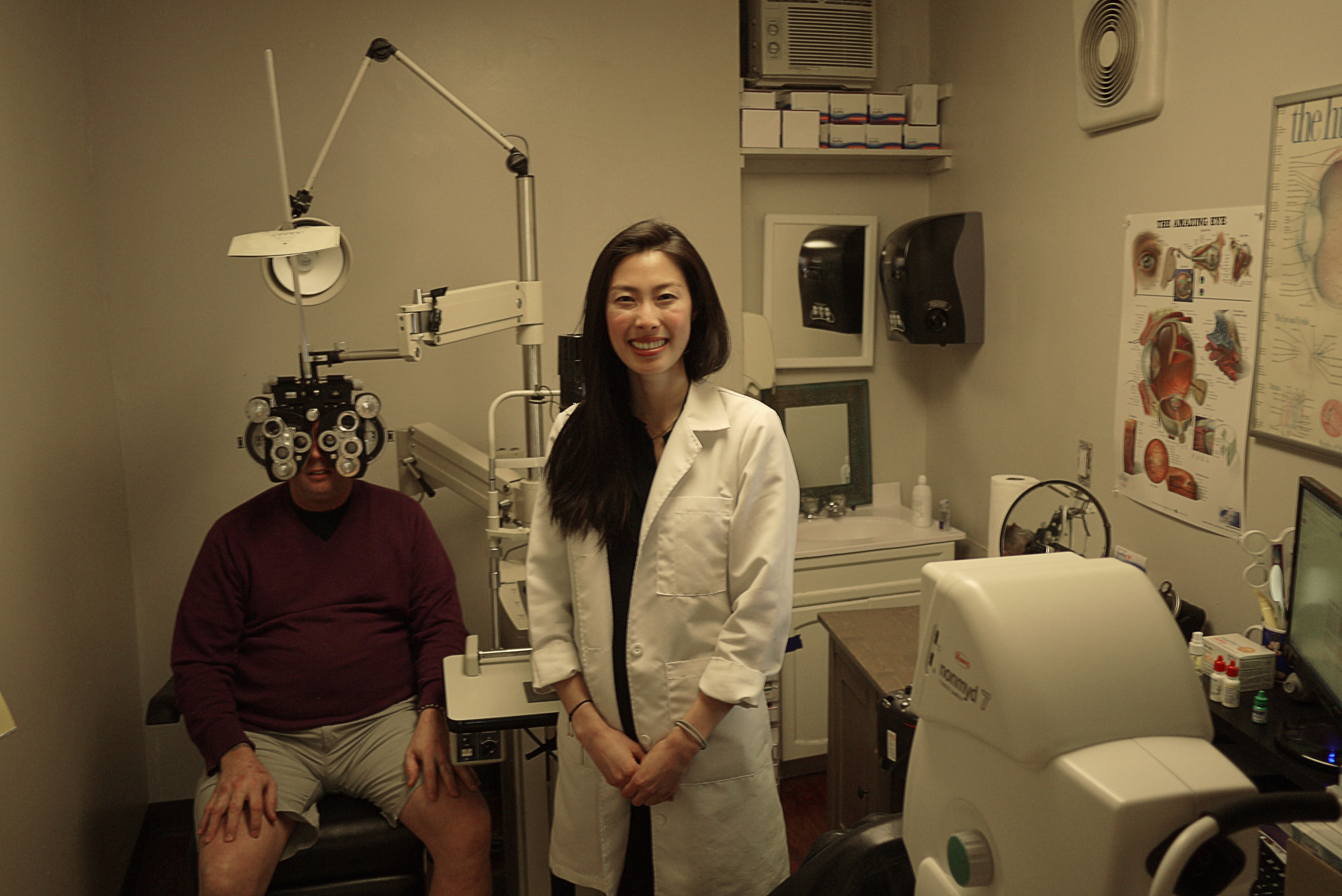 DOCTOR
Our optometrist is experienced, knowledgeable and caring, and offers a wide range of services that include comprehensive eye examinations, glaucoma screenings, contact lens fittings, consulting on Lasik surgery and lens options for your eyeglasses.
Dr. Elaine V. Chu is the full time doctor at Manhattan Eyeworks in the East Village. She attended Rutgers University for her undergraduate studies and received her doctorate of optometry at SUNY College of Optometry. She completed her externship at Bascom Palmer Eye Institute in Miami which has been consistently rated the top eye hospital in the nation as per U.S. News & World Report. She has also participated in an optometric missions trip to Oaxaca, Mexico and has volunteered optometric care at events such as the Special Olympics and the Diabetes Exposition. Dr. Chu is a general optometrist who is committed to providing comprehensive eye care for the entire family. She can diagnose, treat, and manage a range of ocular diseases and refractive disorders. She also manages cataract and refractive surgery patients. She is currently licensed in New York and New Jersey and offers eye exams to patients in English, Spanish and Chinese.
Appointment Hours:
Tues 11:30-6:00pm
Wed 11:30-6:00pm
Fri 11:30-6:00pm
Sat 11:00-5:00pm
WE OFFER THE FOLLOWING SERVICES
– Eye Exams: Glasses and Contacts
– Treatment of eye infections
– Laser consultations
– Eyeglass Repairs
– In house laboratory
– Custom tinting
– Sunglasses (prescription and non-prescription)
– Sports Eyewear
– Children's glasses
 
Types of Payment
We accept cash, personal checks, Debit, American Express, Mastercard, Visa, Discover, and FSA.
Languages Spoken
English, Russian, Spanish, and Chinese
INSURANCE
We Accept the Following Insurances:
– VSP
– Aetna
– Spectera: United Healthcare Vision
– Eyemed
– Davis Vision : HealthFirst, Fidelis, Metroplus, Avidacare, Neighborhood, ChildFirst Plus, Center Care
– Multiplan
– Cigna
– Superior vision
– Avesis
– NVA
– March Vision
– Medicare
– Most unions (UFT,, 32BJ, and many more)
-Metro plus
-Medicaid
-more added every month call today
EYEWEAR AND LENSES
We carry a wide range of brand name frame lines, including:
Giorgio Armani, Prada, Gucci, Lindberg, Mykita, Pro Design, Gold & Wood, Marc Jacobs, Michael Kors, Modo, Lafont, OGA, Silhouette, T2, Eye'DC, Legre, Karl Lagerfeld, Fendi, Rayban, Maui Jim, Revo, Oakley, Lacoste, Kio Yamato, O & X, Oliver Peoples, Paul Smith, OGI, Kimiko, Manhattan eyeworks, L.A. Eyeworks and many more.
We fill prescriptions for high index lenses, progressives — including Varilux, Zeiss and Hoya, as well as polarized and transition lenses. Premium coatings, such as Crizal, are also available.
We offer same-day or next-day service on major brands of contact lenses, including: Acuvue, Bausch & Lomb, Ciba Vision and Cooper Vision. We also supply hard contact lenses and fill specialty orders.
Tonometry and Fundus Photography
Optometrists use fundus photography for monitoring the progression of certain eye condition/diseases. Fundus photographs are also used to document abnormalities of disease process affecting the eye, and/or to follow up on the progress of the eye condition/disease such as diabetes, age-macular degeneration(AMD), glaucoma, Neoplasm of the choroid, cranial nerves, retinal or eyeball, etc. Fundus photography is also used in emergency cases including patients with constant headaches, diastolic pressure greater than or equal to 120mmHg and patients with sudden visual loss. In patients with headaches, the finding of swollen optic discs, or papilloedema, on fundus photography is a key sign, as this indicates raised intracranial pressure (ICP) which could be due to hydrocephalus, benign intracranial hypertension (aka pseudotumour cerebri) or brain tumor, amongst other conditions. Cupped optic discs are seen in glaucoma. In arterial hypertension, hypertensive changes of the retina closely mimic those in the brain, and may predict cerebrovascular accidents (stroke). Auto refractor is used to take a objective view of a persons vision.It's a perfect starting point for a optometrist to compare with either old glasses or contacts.Aids in determining the fit of Contacts or glasses.
Tonometry is the procedure eye care professionals perform to determine the intraocular pressure (IOP), the fluid pressure inside the eye. It is an important test in the evaluation of patients at risk from glaucoma.[1] Most tonometers are calibrated to measure pressure in millimeters of mercury (mmHg)